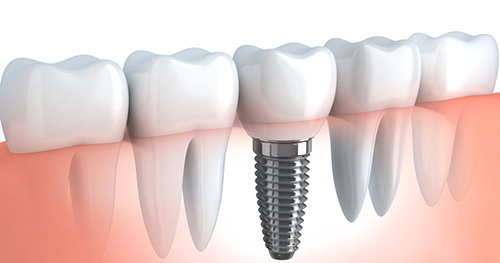 Dental implants are metal post that is used as a tooth root replacement. The implant is surgically inserted into the jaw bone, and new bone formation surrounds it to ensure stability. They can also help support restorations such as bridges and crowns, just like natural teeth. Dental implants don't generally appear in the mouth since our dentist inserts dental implants below the gums. To attach things like crowns, bridges, and dentures, our dentist will also need to install connecting components called "abutments." The implant is connected to the abutment(s), and the restoration is linked to them.
Dental implants are incredibly long-lasting and can last a lifetime (often indefinitely!), however, the gums around the implant restorations must be kept clean and bacteria-free. If an infection surrounds an implanted prosthetic, your dentist may need to remove it in the same way that you could lose natural teeth due to periodontal disease. Implants can create a tooth-like appearance and function in restorations, crowns, and prostheses reconstructed from dental implants. Once your dentist connects the replacement tooth, the abutment and implant become functionally imperceptible. Implants are an excellent method to restore your teeth's original look and function.
---
Dental implants are used to anchor prosthetic teeth. You would choose to have one placed if you had a tooth extracted and wished to replace it. Dental implants are an attractive alternative to other treatments, although they are not essential. You may inquire about dental implants if you want an artificial tooth to replace a lost one. Implantation is among the finest choices in dentistry. However, poor oral hygiene and smoking can make you ineligible for dental implants.
Dental implants are not for everyone, but they have some significant advantages over other tooth restoration solutions. Dental implants are usually more durable than other replacement alternatives such as bridges once healing has occurred. Dental implants do not need healthy teeth to support the replacement tooth. The neighbouring teeth on either side of the gap must be reduced with a drill to install a dental bridge. If these teeth are in excellent shape and don't require restoration, it's probably superior to go for an implant-supported crown rather than an implant and foundation. Dental implants quickly replace the lost tooth. Implants do not affect other teeth in the mouth or their health and usefulness in any way.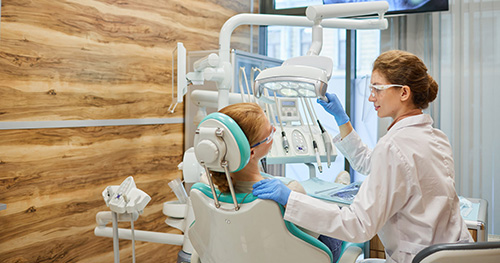 If the panoramic x-ray indicates you require bone grafting or sinus lift, we can proceed. Approximately 20% of our patients need one of these procedures in implant treatment. They are generally done at the same time as your implants are put in most situations. Don't hesitate to get in touch with us to learn more and get a quote if you think you may need one of these operations.
It is not feasible to implant one Dental Implant for each missing tooth. A person who has lost all teeth generally receives six-eight implants in the upper jaw and six implants in the lower jaw. This number of Implants will not stay in the bone. Crowns on both jaws can be linked to your Dental Implants in bridges, allowing you to enjoy a beautiful smile! We offer all of the information you require as well as an itemized breakdown of prices.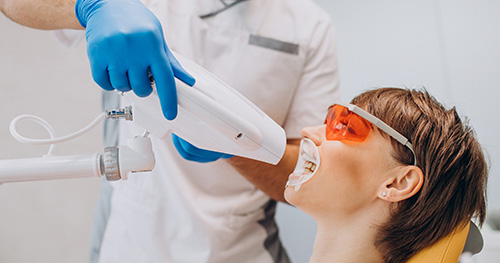 To utilize ceramic materials in our work, we need unique manufacturing processes and stringent quality standards. After all construction phases were completed in the last stage, we made them extremely precise /exact timbres using the golden ratio method, you know.
1- The first step is for us to evaluate you in-depth. During this examination, we will take x-rays and create impressions of the area where you want the dental implant. This data will assist us in determining whether or not your jawbone can support a dental implant. At this time, if we decide that an implant is an excellent option for you, we'll book your implant placement appointment.
2- We'll use topical anaesthesia to numb the region where we'll place the dental implant during the procedure. Almost all patients remark that implant placement surgery is no more painful than a tooth extraction.
3- The implant is placed after the region has been prepared. Our dentists utilize a guide created following your initial consultation to guarantee correct and safe implant placement. We make an incision in the gums and relocate them away temporarily to expose the jawbone first.
4- The dentist uses high-precision surgical drills to create a series of pilot holes in the jawbone's bone.
5- The implant is screwed into place with a torque wrench after the pilot holes are drilled. To prevent harm to the surrounding bone, torque is applied very cautiously and uniformly.
6- When it's time for the last step, the dentist puts a "temporary cover screw" over the abutment slot. We can't put the artificial tooth/teeth themselves until after the bone has healed and fused with the implant—or "osseointegrated." A single tooth may be treated in one of two ways: either alone or as part of a pair. Consider an orthodontic retainer with a replacement tooth to fill the gap. It's necessary because osseointegration takes months to complete.
7- We can finally install the abutment once the implant has wholly absorbed with the jawbone. You'll have to wait another two or three weeks for your gums to heal around it before continuing after placing the abutment.
8- We will create your fake tooth or teeth after the gums have healed, using impressions of your mouth and teeth.
9- The artificial tooth is placed when the dentist is certain that your jawbone and gums are in good condition. The fake tooth will be installed after you've confirmed that your jawbone and gums are healthy enough. The fake tooth isn't very different from a natural one once the operation is done.
10- Finally, a few weeks after receiving your implant restoration, we'll want to book a post-op checkup with you. During this examination, we'll verify that you're not suffering from any problems with the implant repair.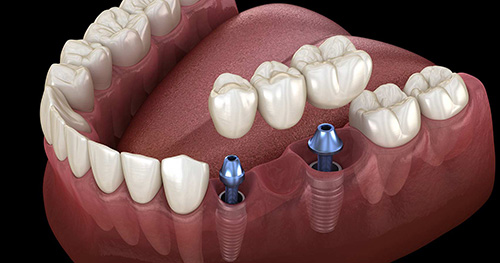 -No! Dental operations are no longer excruciating, thanks to contemporary technology. Thanks to technology. The dental clinic's technology is also crucial, and a local anaesthetic injection (also known as the SleeperOne shot) may numb the entire mouth. The needle is delicate and short. It's believed that pain-free doses are safe for everyone, which we also use on our child patients.
You must make two trips to complete your treatment. For the first visit, you must stay for five days. You will depart with temporary teeth after three months of healing time. Patients generally want to finish their procedure as quickly as possible and return three months following the date of their Implant placement. In comparison, others prefer to wait six to twelve months before returning. If you want to wait longer than three months for your permanent Implant Crowns, this will not affect your treatment and is perfectly safe. The choice is entirely yours depending on whether or not you have any holiday dates left and, of course, your budget.
It does not appear that the cost of dental implant procedures and the time required to heal will decrease in the UK, Europe, or the United States, Canada. Many patients wish to finish their implant treatment as soon as feasible and at a lower cost than what their local dentist quoted them comparable or higher quality. Dental implant pricing in Turkey is far less than what you would pay back home. We employ the same high-quality materials and work with the top Implant manufacturers. Living costs, running a dental practice, and salaries, on the other hand, are much lower than in Uk, Europa, USA, and Canada. You may save up to 70% when considering airfare and accommodation costs if you ask for a Free Dental Implant Quote right now. Furthermore, the sea, sand, sunshine, and holidays are yours as a bonus.
Since 2000, we have been placing approximately 300 dental implants each month in our clinics in Turkey, with over 40,000 individual dental implants to date. Some patient circumstances are straightforward compared to other patients who require bone transplantation and sinus lifting in addition to implant placement. Cases that are not simple are not uncommon for us; we see patients every week that are labelled severe cases. We have years of expertise and may provide various answers based on the demands of the patient. We've years of expertise and may provide various options based on your needs. Please get in touch with us immediately if you require one Implant or a complete rebuilding with additional surgical operations. We'll respond with all of the information you need about your circumstances and a quote for Dental Implants.
Quality: We exclusively utilize high-quality A-Grade Dental Implants, which come with a lifetime guarantee. We use several Implant Brands. Nobel, Straumann, and Alpha-Bio are some of the most popular brands we use. Your bone height and density determine the implant we utilize. We offer a two-tier pricing structure starting at £460 and going up to £699 for everything included in the package. Everything there is to know about these costs is included in this bundle.
There are several low-cost dental clinics, but the Abutment price is hidden, or an extra charge is added. When you add them up, they might amount to considerably more! On your first visit, you must calculate the total value of your treatment, including Implants and Abutments, as well as Implant Crowns on your second visit. Dental Clinic Marmaris ensures that you will be charged the best possible price for your dental implant treatment.
Advanced technology: We employ the most up-to-date technology and conduct all necessary diagnoses with care without having to sit in a dentist's chair.
TIME SAVINGS: You may have your dental implants completed in a two- or three-day visit, and you will leave with temporary teeth. Welcome to your new life, smile.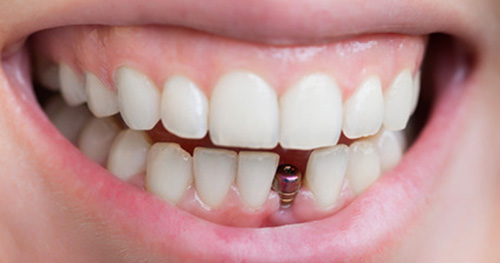 Absolutely, YES. The standard implants procedures: This is the typical method for implanting Dental Implants and is appropriate for patients who want a single Implant, a few Implantations, or total reconstruction. You'll need to visit Turkey twice, with at least three months between visits (Visit One for three days, Visit Two for seven days). The cost per implant + abutment is £460.
THE NON-SURGICAL IMPLANTS PROCEDURES: This treatment is non-surgical. We have the most up-to-date Guided Implant Technology in our clinic, which allows us to pre-plan your procedure and utilize a personally guided template to Implant your Implant. There are several advantages—no Cutting, Stitches, or Healing Time Benefits. The process is a less invasive technique of placing Implants. You must make at least three visits to Turkey with a three-month healing interval between them (Visit One for three days, Visit Two for seven days). The cost per Implant + Abutment is £549. For additional information on Non-Surgical Implants, please see here:
IMMEDIATE LOADING IMPLANTS PROCEDURES: This technique allows us to perform both dental implant surgery and permanent porcelain crowns in one session. We use a type of implant tailored explicitly for direct Crown placement with the Guided Dental Implant Technology. Noble Biocare Active Implants, placed using the Guided Implant Technology, are used in this procedure. The cost per Implant + abutment is £695 + £125 for the porcelain crown.) To complete your therapy in Turkey, you'll need to stay for two weeks.
ON 4 IMPLANTS PROCEDURES: This method is ideal for individuals who have experienced some bone loss due to wearing a denture for an extended period. A single astronomical unit of Prosthetic Teeth is affixed to four Implants in the upper Jaw or four Implants in the Lower Jaw. This is often a cheaper alternative than the Standard Implant Procedure, and it has proved beneficial to many persons with bone loss who want to restore their smile and dental function despite this fact. To complete your treatment, you must travel to Turkey two times. £3,650 Jaw (upper or lower) Implants + Prosthetic Teeth = The cost of one Jaw (upper or lower) Implants + Prosthetic
Because the treatments are spread across two visits, the payments will be divided into two parts. The Dental Implant Crowns cab fee is paid on your second visit, while the Dental Implants and Abutments fee is collected on your first.
There are no hidden expenses. Panoramic X-Rays and Tomography Scans (3D CT Scans) are painless injections and laboratory fees that come with the price range. We can assist you with your travel arrangements and arrange a private airport to hotel transfer for a reasonable cost. Free transportation between your hotel and dental surgery is available within Marmaris city limits).
We can get started evaluating you for dental implants right now! We may begin assessing you for dental implants as early as your appointment. One-click, and it's free. We'll provide all of the information you need to determine whether dental implants are a good fit for you. Please don't put off contacting MarmarisDentalCenter, scheduling an appointment, or coming in during business hours if you want to learn more about dental implants.